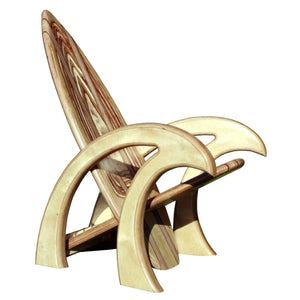 Surf board chair with wave arms
Close your eyes.
Imagine the sounds of the seaside.
The smells of the seaside.
That indescribable peacefulness of being at the seaside.
Now imagine yourself relaxing into a really comfortable chair that reminds you of those happy times of being at the beach.
Feel the smoothness of the of the wave shaped arms as you imagine the waves of the sea lapping upon the shoreline.
Sink back into the 60 degree reclining seat of two intersecting surfboards and pretend that you are out there in the ocean catching a ride on those magnificent waves, or maybe remember the time that you actually did.
Enjoy all this from the comfort of your own home...
This Jimagination Creations chair made of laminated plywood is not only a thing of comfort, but also an amazing focal point for a room or a talking point in your home.
 Approx sizes - height 104cm, width 65cm, depth 97cm
*imagination is required with this product!
---
We Also Recommend
---